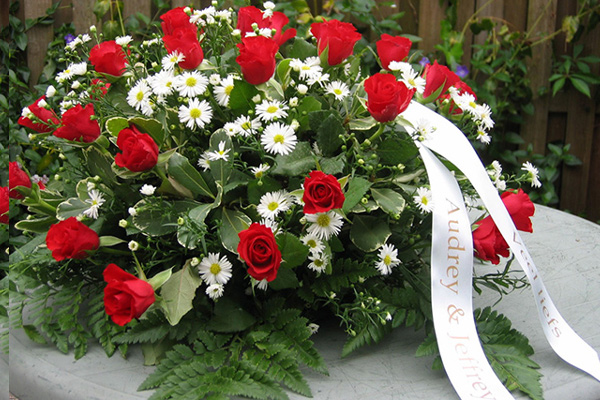 Received photos from our customers showing our mourning ribbons.
Globos annually provides mourning ribbons for the National Remembrance Day on 4 May.
Mourning Ribbon
from €3.50 per meter incl. VAT
Deliverytime:
Ordered on weekdays before 11.00 hrs, shipped the same day.
To a funeral bouquet are often 1 or 2 mourning ribbons attached. One Ribbon is meant to convey a message to the deceased. On the other one, those from whom the mourning Ribbon bouquet came from.
---
---
Order Advice Mourning ribbon
At a large mourning bouquet fits a mourning Ribbon of 100mm wide, at a medium sized mourning bouquet a mourning Ribbon of 70mm and at a small mourning bouquet a mourning Ribbon of 45mm.
If you choose a Ribbon of 70mm or 100mm it is best to use 1 meter per piece. If you choose a narrower mourning Ribbon you can (depending on the length of the text you want) cut 2 pieces out of 1 meter (each piece is 50cm). In the latter case we print 1 text on the first half a meter and the 2nd text on the 2nd half a meter.
Unless otherwise agreed, we print your text 1x on the ordered length. But it is best to always tell u via the 'comments' field, how you want us to print your Ribbon. For example, if you need 2 metres you can write in the 'comments' field, for example 'rest in peace' on the 1st meter and 'the children' on the 2nd meter.
---
Why order mourning Ribbon at Globos?
44 % cheaper than at the florist
no maximum number of characters
choice of 53 colors ribbon and 14 colors print
any desired font and images
ready within 5 minutes, so ready while you wait

Mourning Ribbon

Score

8.5

/

10

out of

1525

customerreviews
Deliverytime Mourning ribbon
We know that mourning Ribbon should be directly printed and sent, however after sending, we depend on the postal service from PostNL. The only thing we can do is write the text 'mourning Ribbon' on the envelope. We can guarantee that if you order and pay before 4 pm, that the mourning Ribbon is sent the same day. Are you just a little too late with order/pay (we fully understand that), then please contact us directly after your order so we can still print your ribbon even if it's after 4pm.