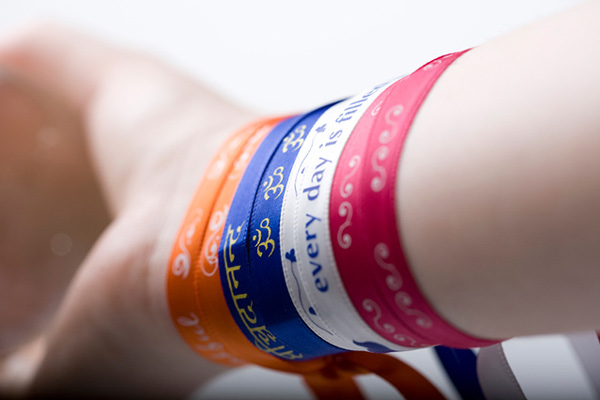 Wristbands
Wristbands
Printed wristbands are often used at events. Our satin Ribbons are smooth and very easy to knot and therefore excellent wristbands. The satin ribbon feels soft and therefore will not irritate the skin when using as a wristband.
In order to easy knot a wristband ribbon, you need 33cm ribbon of 15mm wide for 1 wristband. Therefore, if you order 1 meter Ribbon, you know you can cut 3 wristbands. We print your text or logo - unless otherwise stated - repeatedly continuous on the Ribbon.
---
Order Advice Wristbands
Order a ribbon of 15mm wide. Wider or narrower is also possible but 15mm is most often used as a wristband.
Decide how long you want the ribbons to be. Assume that you have enough to 33cm, then you know that you can cut three wristbands from one meter.
Wristbands
Score
NAN
/
10
out of customerreviews
---